Diffusion of Knowledge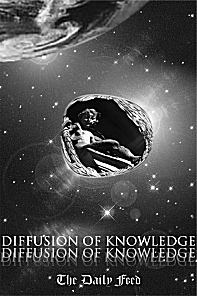 1999 Daily Feed Newsreel
---
This year's newsreel is titled Diffusion of Knowledge: The 1999 Daily Feed Newsreel. The CD is now being shipped from GrabMax Marketbagging.
Low Prices Continue! Once again our new CD attempts to slide in under the average major label everyday price at it's always low price: $12.75. Also, for the last three years we've offered two-fer and three-feroffers. We're continuing that deal this year: Buy two or more CDs and pay the low low price of just ten bucks each! That's one for $12.75, 2 for $20.00, 3 for $30.00, 4 for $40.00 or all five for $50.00. That's a savings of $13.75 on the set, better than getting the fifth one for free!
You can order from GrabMax Marketbagging here, online, and while you're at it get a Daily Feed t-shirt too! Baltimore/Washington DC area listeners: If you prefer to purchase the Newsreel in one of the retail outlets (which we encourage), check out the list of locations, they're available in stores now. You should also be able to find many of our previous newsreels there, so collect them all! And buy other stuff there too, they'll like that.
If you would prefer to order the newsreel or a t-shirt over voice lines (the telephone), call Grabmax at 1-800-GRABMAX (that's 1-800-472-2629). You may also send a fax to that same number with all the info listed on the GrabMax MarketBagging online order form.
---
E-Mail The Studio:
E-Mail Grabmax:
Daily Feed T-Shirt, Cassette and CD Archive Information and Vendification:
GRABMAX MARKETBAGGING (order online!)
2482 Lewis Lane
Finksburg, MD 21048
1-800-GrabMax (voice or fax)


ALL MATERIAL ©(p) 1999 DRYDEN CLARKE AUDIO, INC.
---
Price CD: $12.75


Bundle Offer! Buy any two or more CDs ('95,'96,'97,'98,'99,'00) as a set for $10 each!
---




---
Daily Feed FeedBack