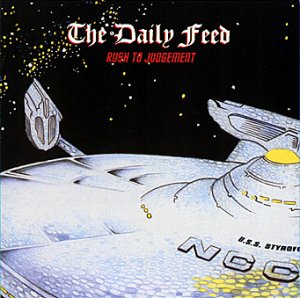 RUSH TO JUDGEMENT
1995 Newsreel
GRABMAX MARKETBAGGING
---
The Startship Syrofoam appears on the cover. The CD actually has 10 fewer pieces than the cassette, but the CD printed side graphics are to be beheld, and hey we're talking Digital Max here!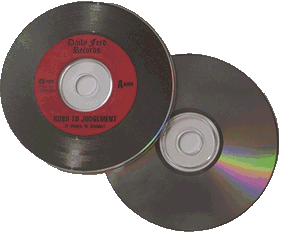 Radio Stations: Inquire about our
PLUG N' PLAY
P A Y O L A P R O G R A M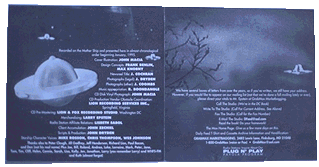 Contents: *Cuts marked with an asterisk do not appear on the CD (and thus the CD contents list is numbered differently, from 1 to 45). **Cut 55 is a BONUS BONUS cut not available on the CD and not even listed on the contents list on the Cassette (I made up the title - Sydd). Side two of the Cassette begins with cut 28.
SPEED RACER 104: (Max Chairs the House)
FRIENDS & FAMILY XII: (Another Long Distance Plan)
IT'S JANUARY AGAIN: (Annual Alien Registration PSA)
A PARTISAN FIGURE: (The Gingrich "State of the Union" Sppech)
ROUTE 60.6-95: (An Information Highway Adventure)
GRAMM-O-PHONE: (Voice Mail Fund Raiser)
COME ON BACK DAN: (The Political Passing of Dan Quayle)
TABLE THE CHAIR: (Another Eruption on the House Floor)
SETTING THE SCENE FOR VICTORY: (A Robin Hood Presidential Stage Play)
WE COULD MAKE A WHOLE NETWORK: (TV Network Programming Promo)
A GRAND OLD PARTY: (The Circus Contract Event on the Hill)
WHITE NOISE: (A White Malitia Meeting Transcript)
WHAT ABOUT ALL THESE SKILCRAFT PENS?: (Getting Rid of Government Agencies)
DO YOU HEAR WHAT I HEAR: (Senator Max at the Hearings)
SHE'S NOT MY GENOTYPE: (DNA, and an Annual Max Demonstration)
*IT'S A BLOODY SOAP OPERA: (With a Touch of OJ)
*TV-E-ROCK!: (Saddam's Address on TV)
*HUNDRED DAYS FROM NOW WILL BE SUMMER!: (The Beginning of Spring)
MEDICARE MARIONETTES: (A Max Medicare Puppet Show)
TO GET THE BULLET: (A Starship Regatta)
A COTTAGE CHEESE INDUSTRY: (The Summer Cheese Mold Offer)
WE HAVE A "SMALL" PROBLEM: (Styrofoam II, Max Gets Reduced)
OJ WAS ABDUCTED BY ALIEN ATTORNEYS: (The OJ Defense Home Page)
NEXT!: (A Network Promo for Episode 3)
YOU ARE THE CHANGELING!: (Styrofoam III, Frank Suspects The Speaker)
WE HAVEN'T A MOMENT TO WASTE: (This Summer's Flag Ammendment)
WE CAN GRAB MAX WITH THE COMPUTER: (Starship Conclusion)
GROCERY STORE HEADLINES: (Tabloid Headline News)
MERGER FUTURES: (A Max Time Machine Report)
TOIL AND TROUBLE: (Daily Feed Publishes the Unabomb Manifesto)
CONGRESSIONAL CHIP SHOT: (The TV V-Chip Debate)
*PLATITUDINAL NEWS: (Actually Called Rush to Judgement News)
*UNDERSTANDING TERRORISM: (An Islamic Cartoon)
*CITY OF SELF RULES: (A DC Tourism Promo)
EVIDENCE OF A PLANT: (Another Starship Styrofoam Adventure)
HAIR OF THE DOG: (Transcripts from the Perot/Texas Convention)
IN TO THE ANOMALY: (Max Gets Zapped Offida Styrofoam)
YOUR TRUE LIFE: (A Long Distance Company Image Spot)
HOW BOUT BANANA PEELS...: (Starship People Must Endure Meetings Too)
DROPS ON GATES: (Starship Styrofoam Conclusion)
MOTHER OF ALL EMPTY NETS: (Saddam, From His Abandonned Bunker)
GOD LUCK AND GOOD SPEED: (An Evelyn Wood Speed Read Appreciation)
THE BODY POLITIC: (Another Robin Hood Presidential Stage Play)
DON'T WASTE ANY OF THAT!: (A Near Mid-Summer Diatribe)
A TRAIN WRECK: (Time Machine, The Government Shuts Down)
DO YOU TEAR TO SWELL THE TRUTH: (Max Calls from the Liars Club)
BLOWOUT IN THE FROG MARKET: (Nuclear Tests By France)
LOCAL RADIO NEWS: (From the MoreMusic Station)
*BLEND WELL UNTIL BLAND: (Politically Correct Betty Crocker)
*A CLOSING ARGUMENT: (Max Invokes Johnny Cochran's Style)
*THE BRONX BOMBERS: (Politically Correct Correct Sports Mascots)
TRICK OR TREAT: (A Max White House Halloween Play)
ALL RADIO STATIONS...: (Carcinogenic Products)
HALLOWEEN II: (Max Revisies Halloween Play)
**JUST IN TIME: (It's The HOME VERSION of the Salad Shooter)
Credits:
Recorded on the Mother Ship and presented here in almost chronological order beginning January, 1995.
Cover Illustration: JOHN MACIA
Design Concepts: FRANK BENLIN, MAX KNOBNY
Newsreel Title: J. COCHRAN
Photographs (Legal): J. DRYDEN
Photographs (other): J. COOMBS
Music appropriation: R. BOONDANGLE
CD Disk Vinyl Photograph: JOHN MACIA
CD Production Vendor Obstacle Coordination: LION RECORDING SERVICES INC., Springfield, Virginia
CD Pre-Mastering: LION & FOX RECORDING STUDIO, Washington DC
Merchandising: LARRY EPSTEIN
Radio Station Affiliate Relations: LISBETH SABOL
Client Accumulation: JOHN ZECHIEL
Scripts & Production: JOHN DRYDEN
Starship Character Voices: MIKE ROSSON, CHRIS THOMPSON, WES JOHNSON
Thanks also to Peter Clough, Jill Godfrey, Jeff Henderson, Richard Lion, Paul Bacon, and Dan (not his real name) Plus Joe, Bill, Roland, Andrea, Luke, Lorraine, Mark, Peter, Jane, Tom, Tim, Cliff, Helen, Connie, Sarah, Lisa, Kelly, Jen, Jonathan, Larry (you remember Larry) and WHFS-FM and Ruth (almost forgot)
From The CD Insert:We have several boxes of letters from over the years, so if you've written, we still have your address. However, if you would like to appear on our mailing list (not that we've done a full mailing lately or ever), please direct your vitals to Mr. Epstein at GrabMax Marketbagging.
Call the Studio: (We're in the DC Book)
Write to the Studio: (Call for Current Address, See Above)
Fax the Studio: (Call for the Fax Number)
E-Mail The Studio:
Read the book! Do your homework!
The Max Home Page: You're looking at it pallie boy.
Daily Feed T-Shirt and Cassette Archive Information and Vendification:
GRABMAX MARKETBAGGING
2482 Lewis Lane
Finksburg, MD 21048
1-800-GrabMax (voice or fax)


ALL MATERIAL ©(p) 1995 DRYDEN CLARKE AUDIO, INC.
Available on cassette for less money.
OJ Appears Courtesy of Lakaveva Dense Records
---
Price Cassette: $11.50

CD: $12.75


Limited Time Offer! Buy any two or all three CDs ('95,'96,'97) as a set for $10 each!
---




---
Daily Feed FeedBack