The Daily Feed CD Factory has delivered the 1998 installment of Daily Feed newsreels: Executive Timber: The 1998 Daily Feed Newsreel. The footage above is, well it's from Frank's vacation - Sydd stole the wrong file, but the cover art is down below! As previously reported the newsreel will no longer be offered on cassette. Yah the 1997 newsreel was the last year that The Daily Feed newsreels were offered on cassette. Now they're all digital.
A note from our worst critic:
The finest compilation of CD satire from the year of the intern should attend to the daily transformations in the news cycle without confining this historical document to references lost in last night's headlines, notwithstanding the necessity to include pieces selected by listener participation. Indeed, this year's contents reflect choices which had previously been eliminated by the editorial staff, including the last minute addition of "Triggered Gates" (title reference to audio production), which appears among the November selections, but occurred in February. A decade from now you won't miss the ten or twelve dollars, but you will have a chronicle of why the most inglorious media indiscretions of a scandalous political milestone remain as the cornerstone for a smile.
- Frank is his own worst critic
Low Prices Continue! Once again our new CD attempts to slide in under the average major label everyday price at it's always low price: $12.75. Also, for the last two years we've offered a two-fer offer, and last year we offered a three-fer. We're continuing that deal this year: Buy two or more CDs and pay the low low price of just ten bucks each! That's one for $12.75, 2 for $20.00, 3 for $30.00 or all 4 for $40.00. That's a savings of eleven bucks on four, almost like getting the fourth one free!
You can pre-order from GrabMax Marketbagging here, online, and while you're at it get a Daily Feed t-shirt too! Baltimore/Washington DC area listeners: If you prefer to purchase the Newsreel in one of the retail outlets (which we encourage), check out the list of locations. You should be able to find many of our previous newsreels there as well, so collect them all! And buy other stuff there too, they'll like that.
If you would prefer to order the newsreel or a t-shirt over voice lines (the telephone), call Grabmax at 1-800-GRABMAX (that's 1-800-472-2629). You may also send a fax to that same number with all the info listed on the GrabMax MarketBagging online order form.
ACKNOWLEDGEMENTS: No listing for art direction is indicated on the 98 because Frank had to serve in that capacity. Appreciation is extended to Ms Debbie Daniel of Adventure World, formerly Wild World, Now Six Flags America, for access to "The Wild One" and to "Roar", the second of a new breed of wooden coasters from Great Coasters Incorporated, first manifest in "The Wildcat" at Hershey Park. The more expansive view of Roar, which appears on page four of the CD insert, had been slated for the cover, but was replaced by this photograph, in an effort to exhibit the golden tones of new pressure treated wood, scorched to grey on certain sides by its first six months in sunlight. This web reproduction of the cover shot is closer to true color than the printed CD cover. It seems that the CD printer was offering a special sale on extra red ink that day, and when we couldn't be reached, he threw it in anyway for no charge. The CD cover is therefore a might bloodshot. The wider shot will appear uncropped among these pages revealing the photographers' shadows. As structures, these GCI creations demonstrate a brand of sweeping beauty that Frank has yet to fully capture on his 1974 Canon FTBn with a 28mm lens. The image at the top of this page (Roar's first drop) was recorded by a digital camera with a normal lens.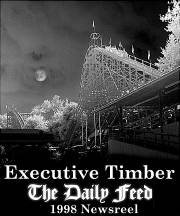 The CD disc image and the black & white store window poster feature the 1948 woodie "Phoenix" which resides in Elysburg Pennsylvania. Though they possess only one wooden coaster, Knoebels, is considered one of the east coast's finest parks, and the green-stained Phoenix remains abundant in airtime and accessibility.
Thanks to Gary Fox-Shiffer who returned this year in an exhaustive compilation for our back cover which is to become our new home page. Despite all of Frank's efforts, Gary wins the CD color print award for the 1998 Newsreel, while the black & white image of the year must go to the silvery nighttime record store window poster which appears among these pages.

TECHNICAL CONSIDERATIONS: This year saw the first compact disc to be mastered in house, though digital storage requirements precluded about 7 minutes of the full 74 minute CD capacity. This was therefore the first release without the professional pre-mastering services of Lion & Fox Recording Studios in Alexandria Virginia. Jim Fox's shop is one of the jewels of the industry, routinely accommodating Hollywood's demanding assignments, as well as Jim's personal specialty, bringing local bands to the major labels. We appreciate their tutelage. Parties should contact Rob (rb@lionfox.com).
We remain indebted to Richard Lion of Lion Recording Services in Springfield Virginia, for 12 years of CD and cassette production and duplication. Richard's company produces more cassettes than any in the region, and he can manipulate cassette and CD delivery schedules beyond that which seems humanly possible.
We regret the absence of a cassette version this year, and should that decision prove to be unwise, we will return to the format. For those who wish to duplicate the newsreel, and, even if your CD player will only program 20 selections, you can do so for our first 20 cuts (using a C-74 or C-90 cassette), then simply start your cassette side 2 with our cut # 21. There is a 3 second break following cut 20 for those who insist on live-assist duplication.