1996 Newsreel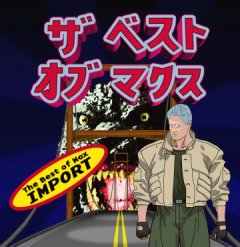 The Best of Max Import
---
Our 1996 release!
Max is in charge this year. Like all years past, he keeps referring to the Newsreel as "The Best of Max" but so far, he refuses to translate the official title of this year's compilation as it appears on the cover. (Of course, you could simply ask a Japanese friend, and if you do, let US know what the heck it is).
Checkout Our Prices! Due to the invasion of huge concrete corporate electronics/music retailers, the price war on CDs wages in many major markets. This has detrimental effects on your friendly local traditional full service retailers but the result is lower prices. And we believe that lower prices are ultimately universally beneficial. That's why our CDs attempt to slide in under the average major label everyday price at it's price of $12.75.
You can order from GrabMax Marketbagging here, online! Newsreels are now shipping. Washington DC, Baltimore et al: If you prefer to purchase the Newsreel in one of the retail outlets (which we encourage), checkout the list of locations. And buy other stuff there too, they'll like that.
If you would prefer to order the newsreel over voice lines (the telephone), call Grabmax at 1-800-GRABMAX (that's 1-800-472-2629). You may also send a fax to that number with all the info listed on the GrabMax MarketBagging online order form.
The following is the promised updated table of contents on the Daily Feed 1996 Newsreel: The Best of Max Import cassette. Yes, five extra cuts for less money. But you are missing out on the cool graphic design on the title side of the CD so...
Notes:
Cuts in red are extras not listed on the cassette contents and NOT on the CD.
All other cuts appear on both media and in the order shown, though numbered differently (got all that, Mr. Rocket Scientist?).
Side 2 of the cassette begins with cut 28 as numbered below.
There are even more cuts if you play the tape backwards, though none as legible.
Do NOT play the cassette sideways.
Introduction
Automated Space Port Advertisements (A Touch Screen Kiosk)
Confessions of a Bunny (A Rabbit's Ramblings)
Shutdown Take Five or Six (Real People Stories)
Mr. Lou & Brother Moo (A Farrakhan Statement)
Tangled Web We Wove (The Future of the Net)
The ABCs of the GOP (The Republican Alphabet)
God's Calling (Islamic Suicide Bombers Explained)
The Shockingess Local News (Sick News Six at Eleven)
We All Be Freemen (Internet Censorship & The Stand Off In Montana)
No Lyme Or Reason (Annual Lyme Disease Update)
A Tale Told By An Idiot (Clinton/Max Stage Play)
Looks Like James... (A Max Mission Impossible )
That's A Mean O' Acid (Vinegar and Other Stellar Stuff)
We Don't Recover... (NationWide's Spring Lawyer Sale)
The Day We Fight Back (Independence Day Election Computer Game)
Let BobDole be BobDole (Frank & Max as Bob & Elizabeth)
Total Recalls (Consumer Products Recalled)
The Computerized Home (Max is Definitely in Control)
One Story at a Time (TV Coverage of the Hot Air Balloon)
The Gipper's Gift (All Politics is Reagan)
Don't You Miss The... (Political Track & Field)
Attention All Polycyclic... (Lawyers For Mars Life Forms)
Taking a 3rd Party Check (The Reform Perot Nomination)
Democrats Negotiate.. (With the TV Networks for Coverage)
Better Pole Numbers (Dole Calls Polls R Us)
An English Cow's Beef (A Mad Cow Disease Song)
Campaign of a Thousand... (Twisted Campaign Statistics)
Build A New Airplane (A Perot Info-TV Speech)
Pull Up The Wagons... (The Perot Debate Debate)
I Got Your Medicare (A Life Insurance Commercial)
S'Gotta Be Here Somewhere (The Season Passes, a Frank Lament)
Fair Is Fair (A Mock Debate Including Perot)
The Debate Rehearsals (How Bob Dole Gets Ready)
Comparing The Campaign... (Surfing Between Candidates' Commercials)
All Hallow on the Eve (A Max White House Halloween Play)
A Model Government (Commander Squish with Buzz)
Tale as Told By An Idiot (Max Wins Nobel Prize for Plumbing)
Questions You'll Never.. (Hear From The campaign)
Styrofoam Sent Packing (Starship Episode One)
Halloween II (Another Max White House Halloween Play)
Gloves Off Campaign (A Dole California TV Spot)
How Many Fingers Am I ... (Max as the Psychic)
Out But Not Back (Styrofoam, Episode Two)
Never Give Up... (Bob Dole Talks With Polls R Us)
Thank You For Your... (Everybody Quits the Clinton Team)
The Line Must be... (Styrofoam Episode Three)
The Department of... (Time Machine: Future Politics)
Future Grid Surfing (Max Fromage on the Info Highway)
The Grande Intesteene (Last Styrofoam Ever, This Year)
Epilogue
---
E-Mail The Studio:
E-Mail Grabmax:
Daily Feed T-Shirt, Cassette and CD Archive Information and Vendification:
GRABMAX MARKETBAGGING
2482 Lewis Lane
Finksburg, MD 21048
1-800-GrabMax (voice or fax)


ALL MATERIAL ©(p) 1996 DRYDEN CLARKE AUDIO, INC.
---
Price Cassette: $11.50

CD: $12.75


Limited Time Offer! Buy any two or all three CDs ('95,'96,'97) as a set for $10 each!
---




---
Daily Feed FeedBack