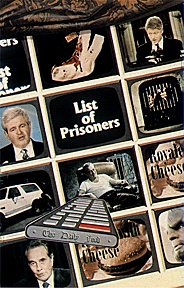 List Of Prisoners
1994 Newsreel
GRABMAX MARKETBAGGING
---
Yet Another Daily Feed Newsreel
The pictorial representation on this screen is derived from our 1994 commercial release, "List of Prisoners" which contains vague promises to set the record straight concerning additional stories not listed in the printed material. Several pieces were added based on the annual tally of votes from WHFS listeners which occurs after press time for the first edition cover art printing. Actually, all copies of this cassette now in circulation are second editions since the first edition was incorrectly labeled (side oneside two) due to a reversal in the bin loop mastering process. All but seventeen copies of that run were destroyed, in the hope that those remaining might someday become valuable. We just checked, they're still worth squat.
Below is an index of all entries now contained on "List of Prisoners". Those in capital letters were added after press time, and do not appear on the first edition printed material which is actually not even the first edition.
Side One
Side Two
A TV Weight Loss Spot
Lockin On To The Counselor (Styrofoam II)
POSTAL BUDDY
A Long Distance Commercial
Post Office First Class Violations
A Presidential Reception for The Flintstones
A Farrakhan Statement
Transcript From The World Trade Center Trial
A Legal Video Game
A Cable TV Update
Commander Squish aboard the Abductress (a Reagan reference removed)
Kim Not Kim With Further Clarifications
A Program About The Clinton Budget Program (another Reagan reference removed)
Live OJ Trial Coverage
Victims of Radiation Tests
Frank's Annual Don't Waste Summer Appeal
Frank's February Discussion
MORE SLEAZE FROM HARRY AND LOUISE, INSURANCE INDUSTRY SPOTS
Aldrich Ames Spy Transcripts
Discussing Whitewater Hearings Coverage
A Health Care Commercial
Another Starship Styrofoam Episode
A Parody Decision Parody
And Another Long Distance Spot
A Washington Soap Opera
Robin Hood VIII
Robin Hood Scene VII
THE WHITEWATER HEARINGS OPEN
An Information Highway Update
Space Care 4.0, a Styrofoam Conclusion
Inspecting North Korean Nukes
Calls to Prince Charles
The Max Radio Morning Zoo
MAX KNOBNY'S NATURAL BORN KILLERS-SWEET JANE RENDITION
Larry, Dole, & Curly
TV News Coverage of the Killer Bees
More Alien Abductions
A Max Bank Machine Story
North Korean UnCooperation
NationWide's Lawyer Sale
A Review of Quayle's Book
The Republican "Contract" With Voters
BLACK HOLE
FRANK'S END OF SUMMER LAMENT
Floor Discussion of The Lobby Gift Ban
Commander Squish Ponders The Congress
Summer Lyme Disease Report
A White House Halloween Play
Kim Not Kim's Address to America
The OJ Channel
Health Care aboard the Starship Styrofoam
Last Minute Campaign TV Spots
A Song With Private Parts
Highway Roguery, An Info Highway Episode
THE BOARD'S LAIR, A REPUBLICAN SANCTIONED SCHOOL PRAYER
First Edition: This year we just let the printer choose the contents because they need this cover so early; we can't hope to be all that accurate anyway. Due to listener voting, there may be 3 or 4 additional pieces (Postal Buddy was from 93 balloting), which will disorder the above order and otherwise place blame outside our purview.
COVER: Lisbeth Sabol with coffee interns Paul Bacon and John Dryden.
Thanks to Zeke, Lisa, Action Jackson, Liz, Sam, Dan, Paul, Mark, Mike, Chris, Tom, Tim, Larry, Richard, Jeff, John, Andrew, Jill, Julie, Luke, Hampie, Jonathan, Drue, Connie, Sarah, Weasel, Bob, Rob, Strangeways, and WHFS.
© Dryden Clarke Audio, Inc. Newt Gingrich appears courtesy of Dontakeany Records
---
Price: $11.50